Professional Resume Template PPT & DOC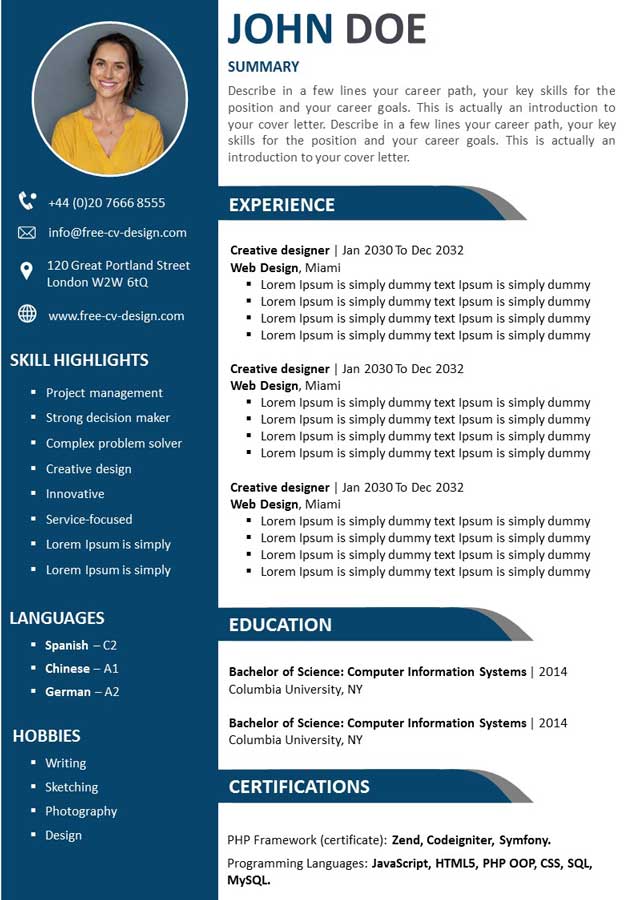 Professional Resume Template PowerPoint & Word
Download Free Professional Resume Template ppt & docx. This PowerPoint & Word template is very easy to use and it is perfect for developers, graphic designer, web designer and photographers. This Professional Resume Template ppt is very well organized and labeled for you to get the best result in the minimum possible time.
This free resume template is easy to change colours, layout and text to suit your needs like a profile, contact info, experience, education, skills etc. Download contains a A4 Paper Size ou Us lettre, you can delete as add parts all depends on your profile and finally you will save it either in PDF or all depends on your needs. Download this free Professional resume without a subscription!
The advantages of a professional CV in Word or PowerPoint format
A professional CV in Word or PowerPoint format offers numerous benefits. Firstly, it allows for a well-structured and personalized layout, making it easier for recruiters to read. Additionally, it can be easily modified and updated as needed, and can be converted to PDF for wider distribution. Lastly, Word and PDF formats are widely used and accepted by employers, increasing the likelihood of being selected for an interview.
What makes downloading this free professional CV template worthwhile?
Designing your own resume from scratch can be a time-consuming endeavor. It's evident that recruiters have little regard for poorly constructed resumes. To tackle this challenge, our team of experts has developed a user-friendly resume template in Word, allowing for easy customization and export in PDF format.
This professional resume template encompasses all the essential sections found in a well-rounded resume, guaranteeing readability and visual appeal. By simply clicking the download link, entering your personal information, and exporting the file, you'll have a polished resume ready to be attached to your applications.
Other forms are free