Creative CV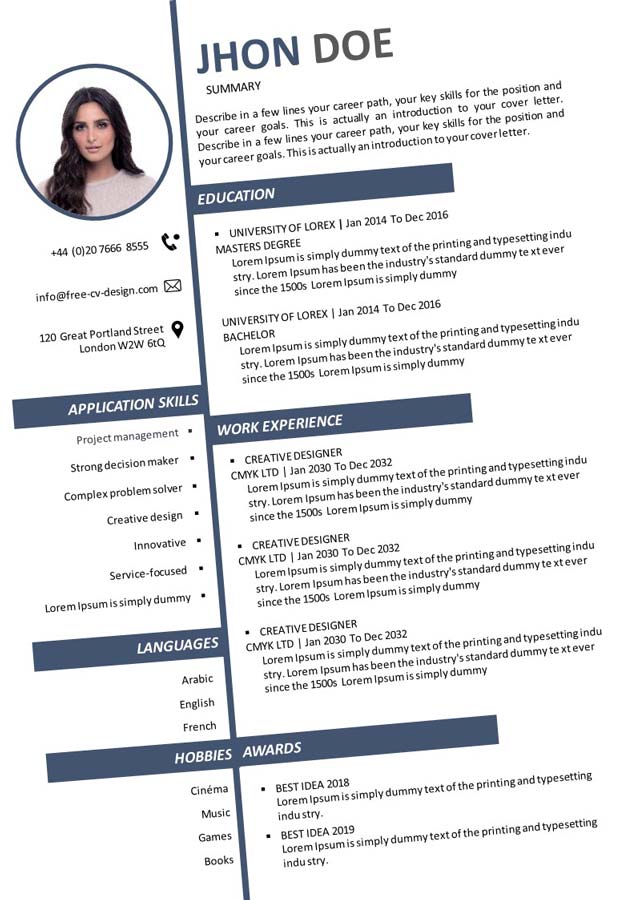 Creative CV template ready for free download
This creative CV in PowerPoint and Word format that is ready for download. If you're someone who craves uniqueness and wants a CV that truly reflects your individuality, this is the perfect opportunity for you. This CV goes beyond being outstanding; it showcases every aspect of your profile and background, encompassing a profile picture, personal details, professional experiences, and training, among others. What sets this creative CV apart from the usual examples is its reliance not only on descriptive texts and titles but also on engaging graphics and vibrant colors.
The CV is conveniently available in PowerPoint and Word formats, allowing you to easily download it for free and customize it with your own information. You have the freedom to modify, add, or delete sections according to your specific profile. Finally, you can choose to save the CV in PDF format to cater to your individual needs, whether it's for printing or digital submission. Embrace this opportunity to express your creativity and download this captivating creative CV now!
Characteristics of a creative CV ?
A creative CV offers numerous advantages that can significantly boost your chances of standing out in a competitive job market. Firstly, its unique and visually appealing design captures attention and makes a memorable impression on recruiters and hiring managers. By deviating from classic CV formats, a creative CV showcases your ability to think outside the box and demonstrates your creativity and personality. It allows you to showcase your skills, qualifications, and experience in a visually engaging and impactful way, making it easier for employers to quickly grasp your strengths. Additionally, a moderne CV can help you differentiate yourself from other candidates, as it reflects your individuality and personal brand. It shows that you are willing to take risks and go the extra mile to present yourself in a distinctive and memorable manner. With a creative CV, you have the opportunity to leave a lasting impression and leave no doubt about your unique value as a candidate.
Other forms are free