Free Arabic CV template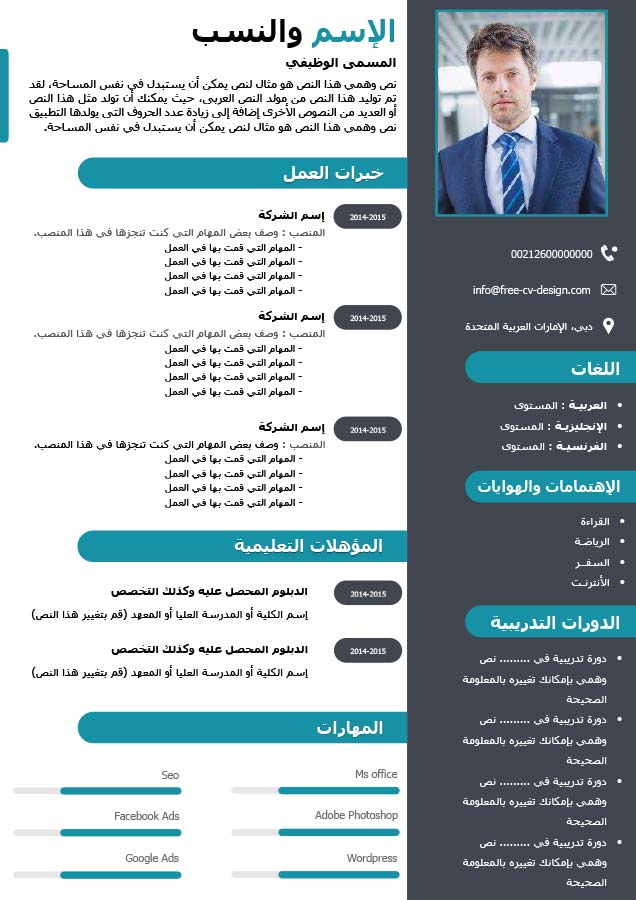 Free Arabic CV ready for download
Want an editable Arabic resume? This CV template in Arabic is ready to be filled out, and we present it in a wonderful way that suits all candidates. This example is easy to modify, and we have provided it to you in two versions, the first in Word format and the second in PDF.
In order to reach an effective result, you have to replace the fake information with your own correct information. After that, export the CV in PDF format and finally it is possible to send it via e-mail. This CV includes all the sections recognized in the Arabic resume. Download now this Arabic CV in Word and PDF format for free!
| | |
| --- | --- |
| Format(s) included : | Microsoft Word DOCX / PDF |
| Customizable : | Yes |
| Size : | 231KB / 154KB |
| Aspect ratio : | A4 - 21cm x 29.7cm |
| Download Word Format: | |
| Download PDF Format: | |
How do you write a resume in Arabic?
You do not have the idea of writing an Arabic resume? With us, you will create a professional and correct CV without errors and like no other.
Sections of the Arabic CV
There are sections that are considered the mainstay of the CV, and there are some secondary sections, but at the beginning of the work stage, they form a difference between the candidates.
Basic sections
Education (educational qualifications) التعليم (المؤهلات التعليمية)
Experiences (work experiences) الخبرات (خبرات العمل)
Skills المهارات
Languages اللغات
Contact information and personal information معلومات الاتصال والمعلومات الشخصية
Optional sections
Interests and hobbies الاهتمامات والهوايات
Job title المسمى الوظيفي
Profile الملف الشخصي
Training courses الدورات التدريبية
Voluntary work الأعمال التطوعية
steps of creating an Arabic CV in the right way
To create a CV with correct and successful stages that most creators do:
First: Write everything related to experience and everything related to you on a piece of paper (write everything you want to write down in your CV).
Second: Writing the information corresponding to the job advertisement, which gives the CV more matching with the required job. The thing that makes it easier for the Human Resources Manager to read your entire nomination file in a short time, less than 30 seconds (write only the skills and experiences required by the company).
Other forms are free