CV formal to download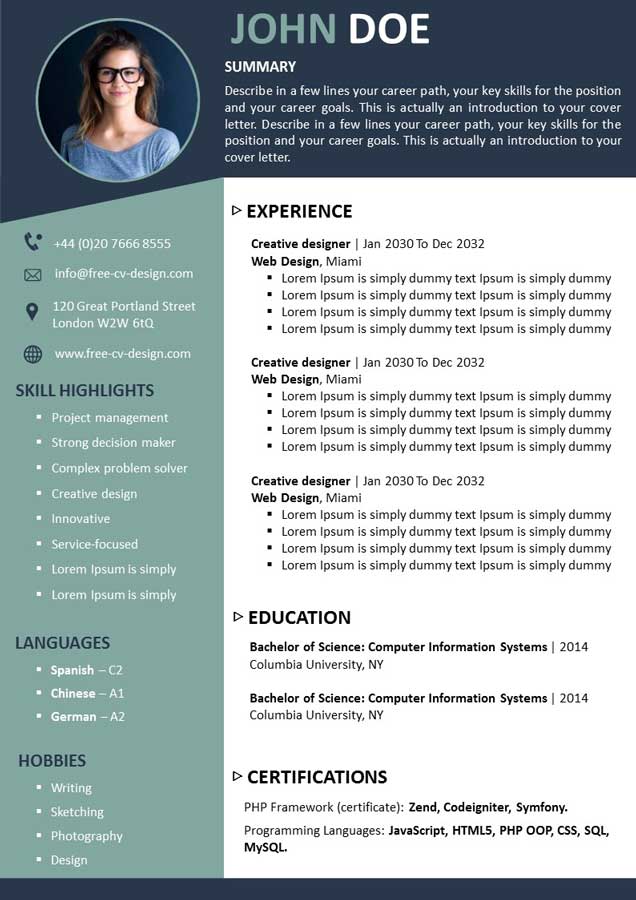 Free CV to download
We present you an example of a formal CV in PowerPoint & Word format .The CV is too chic; its design is not usual and attracts attention at first glance.
The CV illustrates each part of your profile by putting it in a special position. The CV contains a column to the left of it, contains the profile picture, a small description of the profile, the personal details, Hobbies and Awards in case you have them. At the top of the CV, there is the name of the profile written in bold; followed by a section that illustrates your professional experiences and your training and development in chronological order, and finally a section dedicated to skills and mastered languages.
The CV is available in PowerPoint & Word format; you can download it free without, edit it by replacing the information with yours and then save it in a PDF format.
How to edit a CV on Word or PowerPoint?
To edit a CV in Word or PowerPoint, get started by downloading this CV template from the link above. Choose the version that suits your needs and preferences. Once downloaded, open the file in either Word or PowerPoint, depending on the format. Make the necessary modifications to the CV, such as updating personal information, adjusting sections, or changing the layout. After completing the edits, it's recommended to export the CV in PDF format for easy sharing via email or uploading it to recruitment sites. This ensures that the document maintains its formatting and can be easily viewed by potential employers.
Other forms are free