How to Write a Resume in 2023 (The Guide)

by Joseph Baha · Updated May. 22, 2023
Find out how to write a Resume/CV step by step. In this guide, we will discuss how to write a resume in 2023. Whether you're a professional or a beginner, a student or a seasoned worker, this article will provide you with all the information you need to create a perfect resume for free.
Steps to Create a Resume/CV on Word
Download the resume template that suits your needs and is compatible with your candidacy file.
Fill in all your details, including your contact information, experience, skills, and diplomas.
Modify the sections according to your own requirements, adding or removing relevant information.
Export your CV in PDF format so that you can easily send or print it.
1. Resume/CV Templates in Word and PowerPoint
We understand the challenges of creating a resume from scratch. That's why we offer you a wide selection of more than 50 Word and PowerPoint resume templates.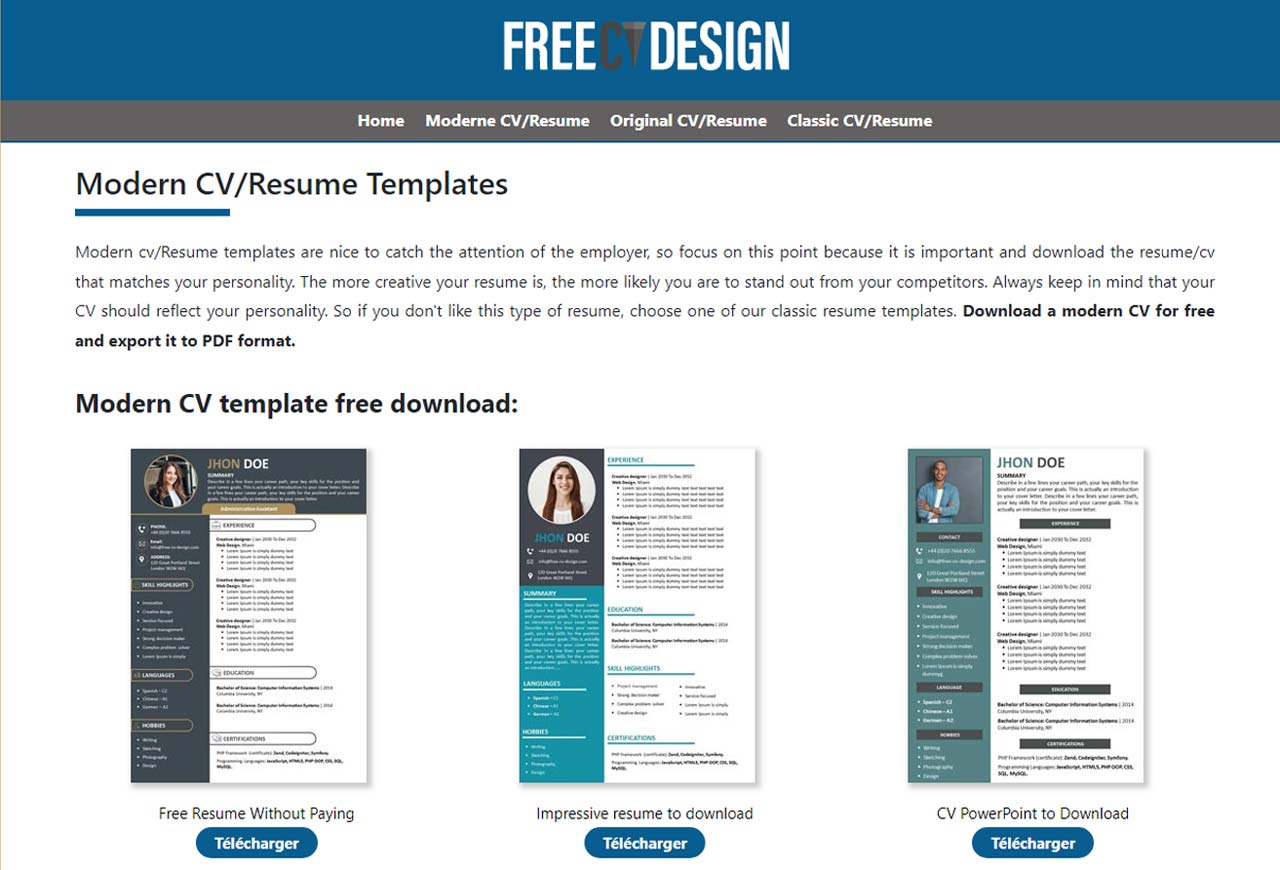 Our collection includes classic resume, modern resume, and original resume templates, ensuring there's something for everyone. With just a few clicks, you can customize your chosen template and export it to PDF within minutes.
2.Download the Template in Word or PowerPoint Format
After selecting the template that suits your style and needs, simply click on the download link.
You have two options available: A4 and US Letter formats for Word & templates, as well as A4 and US Letter sizes for PowerPoint templates.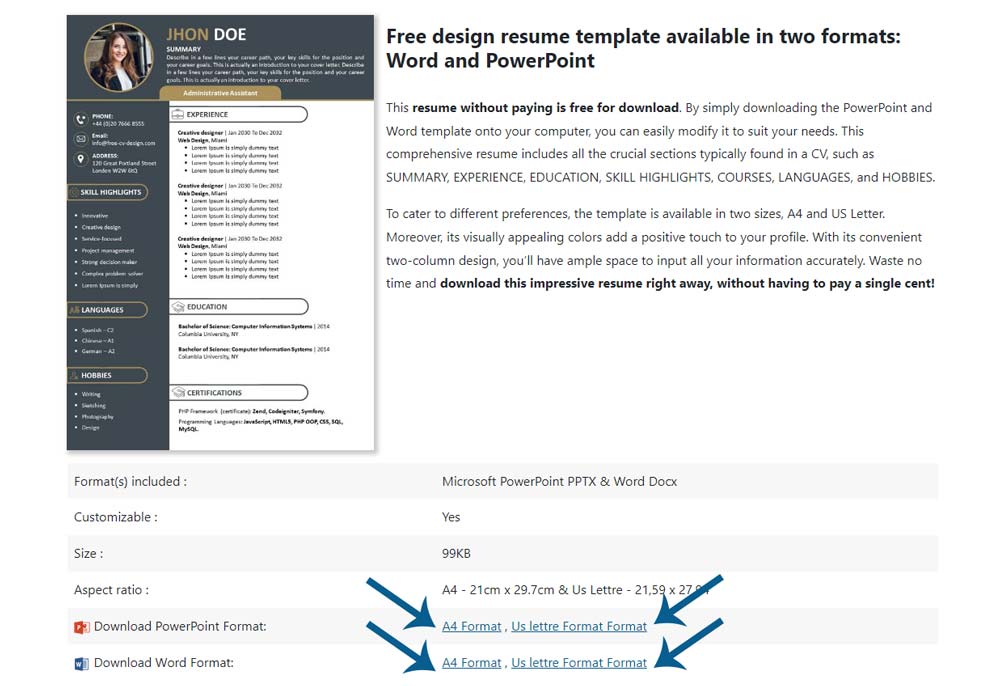 Once downloaded, the template is ready to be modified on your computer or tablet.
3.Opening the Resume/CV Example on Word or PowerPoint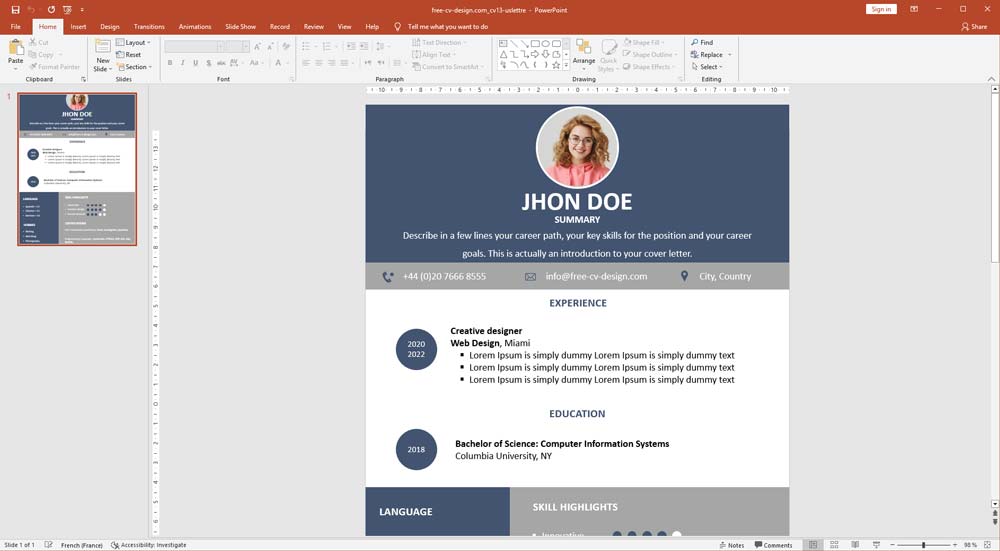 Once you have downloaded the template, open it in the program of your choice, either Word or PowerPoint. To begin making changes, click on the "Activate the modification feature" option at the top of the program.
4.Write All Your Information in the CV/Resume
Now it's time to personalize your resume. Replace all the existing information on the template with your own details, ensuring that it is relevant to the position you're applying for.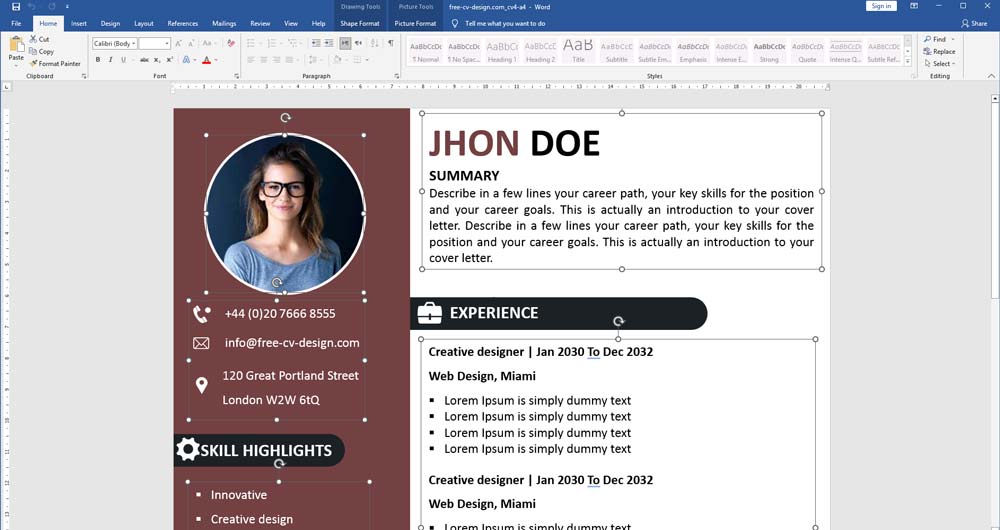 Note that if including a personal photo is not customary or necessary in your country, you can remove it from the bio section.
5.Exporting the CV in PDF Format
After you have entered all your information, double-check it for accuracy and make any necessary edits. Once you are satisfied with the content, it's time to export your resume in PDF format.
In the Word program:
Navigate to the "File" tab.
Select the "Save As" option. Choose PDF as the file format.
Specify the destination folder, and click "Save."
Your resume is now ready to be shared digitally or printed with ease.
Writing a resume in 2023 can be a straight forward process when you have the right tools and guidance. By following these steps and utilizing our diverse collection of templates, you can create a compelling resume that highlights your skills and experiences effectively. Start crafting your CV today!