Remarkable cv to download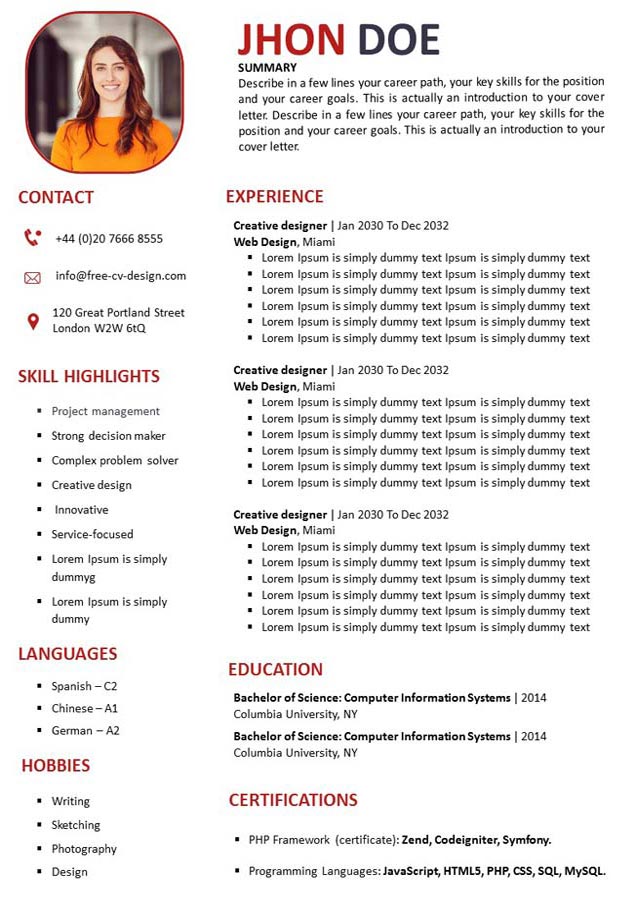 Free Remarkable CV template for download
Are you looking for a CV? This Remarkable CV available in Word and PowerPoint formats, conveniently designed in two sizes, A4 and US Letter. This template can be downloaded free of charge onto your computer, allowing easy customization using Word and PowerPoint programs.
The CV showcases a visually appealing color scheme catered specifically for women, adding a touch of elegance and professionalism to your application. With its two-column layout, this CV template offers a clear and organized structure to highlight your skills, experiences, and education. Take advantage of this opportunity and download the Remarkable CV now, enabling you to effortlessly modify and personalize it to your preferences.
Once customized, you can conveniently export it as a PDF, ensuring compatibility for sending digitally or printing hard copies. Propel your career forward with this eye-catching CV template, designed to leave a lasting impression on prospective employers.
How to modify the CV?
Editing a CV on Word is a straightforward process. Begin by opening the CV document in Microsoft Word. Open CV to modify or update. To edit text, simply click on the text you want to change and start typing. You can delete or add sections by selecting the content and pressing the delete or backspace key or using the insert function to add new sections. To customize the formatting, highlight the text or section and use the toolbar options to change fonts, colors, alignment, and other formatting elements. You can also adjust the layout by dragging and resizing text boxes or tables. Once you are satisfied with the edits, save the CV as a Word document or export it as a PDF for distribution or printing.
Other forms are free