Free Detailed CV Template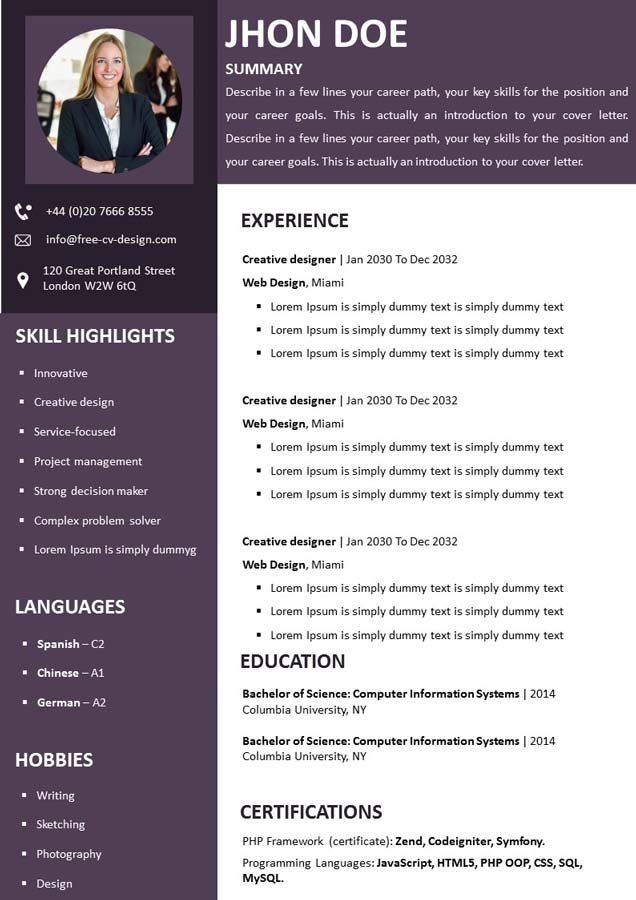 A detailed CV is available for free download
Stand out from the crowd with our meticulously crafted detailed CV, available for free on our website. Unlike generic CVs, this template is designed to captivate the attention of readers with its sophisticated layout. It presents your profile information in an elegant and organized manner, ensuring a clutter-free presentation. The extraordinary choice of colors and fonts further enhances the overall visual appeal. Editing this detailed CV is a breeze, allowing you to customize it effortlessly to reflect your unique qualifications and achievements.
This comprehensive CV includes all the essential sections found in a professional resume, covering Experience, Education, Certifications, Skills, Languages, and Hobbies. By downloading the template in PowerPoint or word format, you gain the flexibility to personalize it according to your preferences. Once you are done with the modifications, simply export the CV in PDF format, enabling easy submission via email or job sites. Download now and don't miss out on this opportunity to impress potential employers with a meticulously crafted and attention-grabbing detailed CV!
Successful steps to modify the CV:
Choose the required CV format and page size.
Open the program, whether Word or PowerPoint.
Change all information with your correct information.
Export CV in PDF format.
Send your CV via e-mail or print.
Modification Method:
To begin, download the .pptx or .Docx example and open it using the Powerpoint or Word program (please note that the version compatible with CV modifications is 2007 or newer). Once opened, editing the CV becomes a breeze as you can effortlessly modify any information and input your own. If you wish to change the image, simply right-click on it and select "Change Picture." and Finally, save your CV in PDF format.
Other forms are free