French CV Template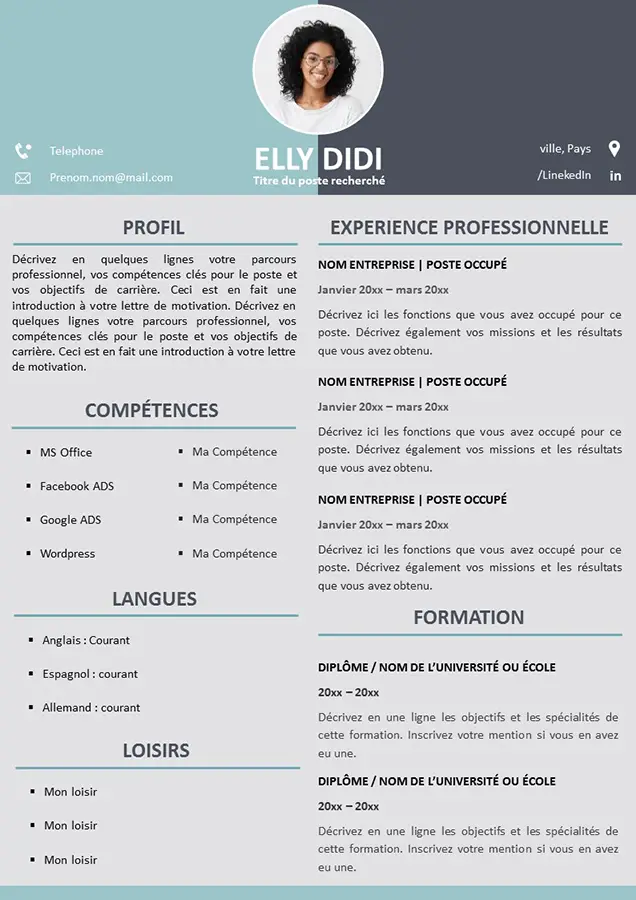 Example of French CV in PowerPoint & Word format
Discover a French CV example in PowerPoint & Word format, specially designed for French-speaking countries. Simply download the template and install PowerPoint or Word if you don't already have it. Then, easily open this CV example and personalize it by editing the text, images, and colors according to your preferences. This PowerPoint & Word CV template is fully customizable without any hassle, including all the essential elements for creating a successful CV.
This cv template adapts to all portfolios in terms of modern colors and distinctive layout. It is designed to pique the interest of HR professionals due to its visually appealing design. Download this French CV template for free now and customize it effortlessly using PowerPoint or Word !
| | |
| --- | --- |
| Format(s) included : | Microsoft PowerPoint PPTX & Word Docx |
| Customizable : | Yes |
| Size : | 65,5 KB & 107KB |
| Aspect ratio : | A4 - 21cm x 29.7cm |
| Download Word Format: | A4 Format Format |
| Download PowerPoint Format: | A4 Format Format |
Important sections of a French CV:
There is some information in the French CV that is important, and in order to be able to market yourself successfully, it must be written.
Personal information and contact:
Contact information is the first way to communicate between you and the employee:
Full name
Phone number (always available)
Email, in the following format: [email protected]
There is also information you can add in this section, such as your Linkedin link.
Previous work experience:
Write all the work experiences you have had at the top that are appropriate for the position you would like to work in.
On the other hand, the information should be detailed, such as the name of the company in the part you work in, the start and end dates, the job function, as well as some tasks you have currently performed during the work period in detail.
Education :
You must include everything that is important in your academic journey, such as: baccalaureate, master's, doctorate… Write the diploma and the name of the school or university, mentioning the date of obtaining the diploma.
All information included in educational experiences should be presented in chronological order, from most recent to oldest.
Other sections
There are also other sections that are no less important than those we mentioned previously, such as: languages, skills, hobbies…
Feel free to download this French resume in pptx & docx format, as it is guaranteed to make a difference between you and other candidates for the same position.
Other forms are free