New CV to Download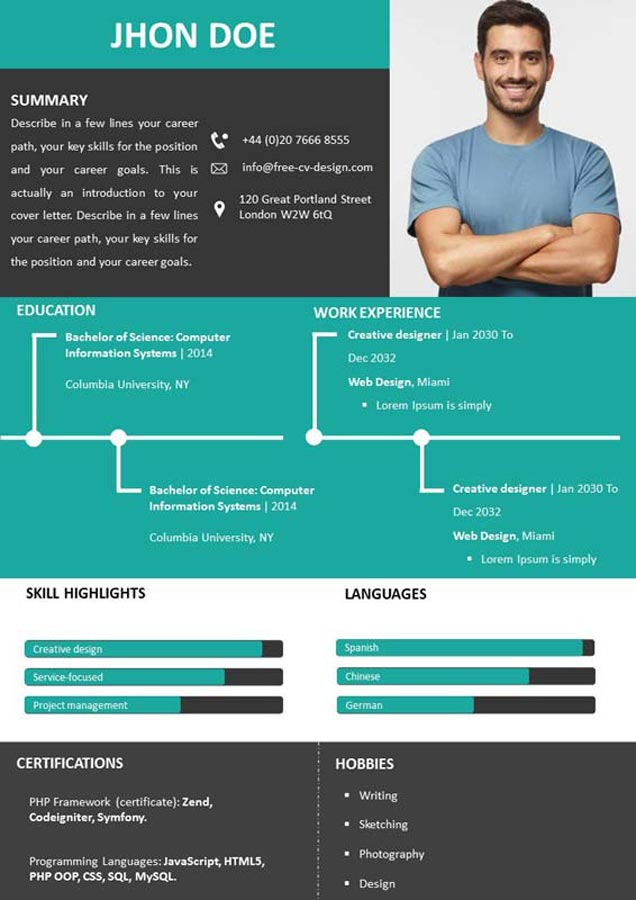 New CV ready for download
Here is an example of New CV in PowerPoint format to download, it is too chic and professional, suitable for the majority of profiles, its download is free and its modification is too easy. Unlike usual CVs, the following template is organized in an excellent way, each section of the CV illustrates part of your profile with special colors and graphics.
The CV contains a column to the left of it, contains the profile picture, a small description of the profile, the personal details, Hobbies and Awards in case you have them. At the top of the cv, there is the name of the profile written in bold; followed by a section that illustrates your professional experiences and your training and development in chronological order, and finally a section dedicated to skills and mastered languages.
The CV download is easy; you will have the opportunity to modify it quietly and save it in PDF or PowerPoint format.
How to edit this new CV?
To edit this new CV, follow these steps. Start by downloading the CV from the provided link in either Word or PowerPoint format, and ensure you choose the appropriate page size, such as A4 or US letter. Next, open the example using your preferred program. Proceed to modify all the necessary information, including personal details, work experience, education, and skills. Once you have made the desired changes, export the CV as a PDF file. This format allows for easy sharing via email, printing for physical copies, or uploading to various job sites.
Other forms are free