Resume template in English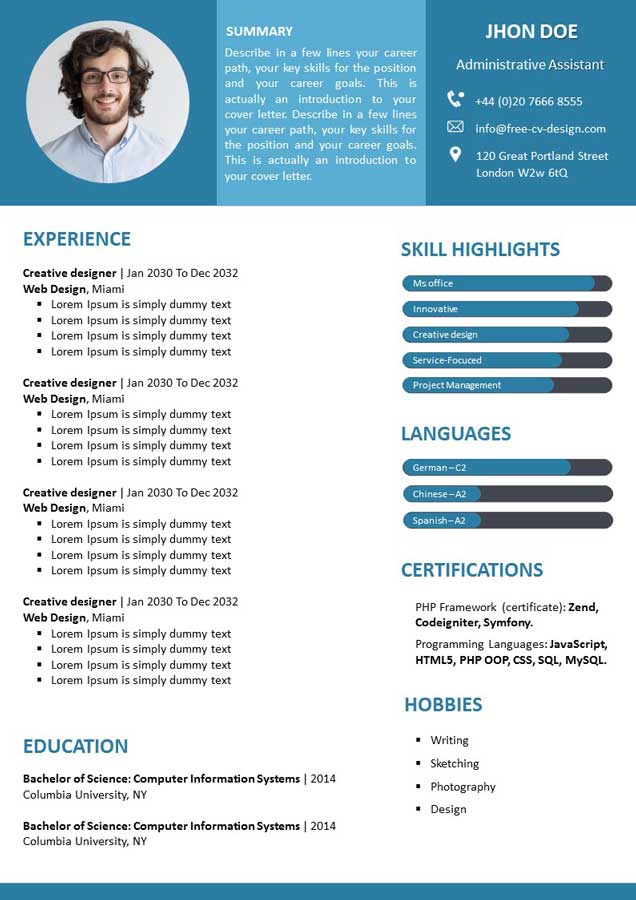 Free resume in English
Here is an example of an English resume in PowerPoint format to download. The resume is classic and modern, it is organized and orderly which makes reading it easy and smooth for readers.
The resume illustrates all the parts of your profile and your background, including the profile picture, personal details, professional experiences, training and so on. The resume is based on not only descriptive texts and titles but also on graphics and colors, that value it compared to the usual examples of resume.
The resume is available in PowerPoint format, you can download it free, change it easily by changing the information with your information, you can delete as add parts all depends on your profile and finally you will save it either in PDF or PowerPoint all depends on your needs. Download now this free resume in English!
What are the most important English resume sections?
The most important sections of an English resume are critical in showcasing an individual's qualifications, experience, and skills to potential employers.
The first section is the professional summary, providing a concise overview of the candidate's profile and key attributes.
Following this, the work experience section outlines relevant employment history, highlighting responsibilities, achievements, and demonstrating the applicant's expertise.
The education section includes academic qualifications, degrees, and certifications, emphasizing the individual's educational background and areas of specialization.
Additionally, the skills section showcases the candidate's unique abilities, both technical and interpersonal.
Finally, language proficiency, particularly in English, is crucial in today's global job market.
By including these vital sections, an English resume effectively presents a comprehensive and compelling snapshot of an applicant's qualifications and suitability for a desired position. Feel free to download this English resume as it is a complete and free example.
Other forms are free