Free two-column resume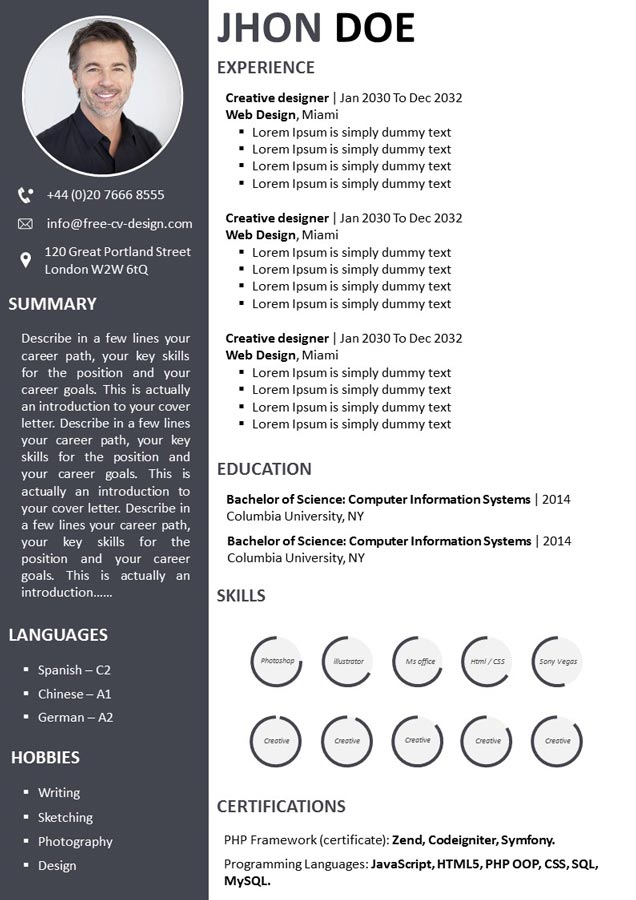 Free two-column Resume to download
Looking for a standout resume that sets you apart from the competition? Look no further! At our site, we offer a unique two-column resume that is available in Word and PowerPoint formats.
Packed with numerous features, this resume template allows you to showcase your skills and experience in an organized and visually appealing manner. With options like A4 or US Letter dimensions, you can ensure compatibility with various paper sizes. The best part is that this CV is fully customizable, allowing you to modify all the texts and section names according to your preferences. You also have the flexibility to change or remove the profile picture as needed. Once you've created your perfect resume, you can easily export it to PDF format, making it ready for printing or submission on job sites like LinkedIn.
Don't miss out on this opportunity! Download our free two-column resume in DOC or PPT format today!
Features of a two-column resume
A two-column resume offers several advantages that can greatly enhance your chances of landing your desired job. Firstly, the layout itself creates a visually appealing and organized structure, making it easier for recruiters and hiring managers to navigate through your information. The two-column design allows for clear and distinct sections, enabling you to highlight key details such as your skills, experience, and education in a concise and impactful manner. This format also allows for better utilization of space, enabling you to include more relevant information without overwhelming the reader. Additionally, the two-column layout provides a clear separation between different sections, making it easier for employers to quickly identify the areas that interest them the most. Whether you're emphasizing your qualifications or showcasing your accomplishments, a two-column resume can help you present a professional and polished image that sets you apart from other candidates.
Other forms are free